Bieg Piastów in Worldloppet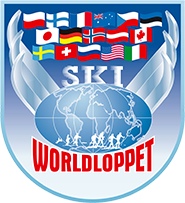 20 races, 4 continents, 110 thousand of racers, 18 thousand of Worldloppet passports - one PASSION! It is Worldloppet International Ski Federation - Worldloppet Miedzynarodowa Federacja Narcotise - whose member is Bieg Piastów since 2008.
Worldloppet has been established in 1978 in Sweden. Ski races of Europe, Asia, North and South Americas and Australia.
Main objectives of Worldloppet is global promotion of ski races implemented by high standard of planning, availability to all, participation o world class racers and repeatability and continuity - each race has to have its tradition and fixed date.
16 races are full members of Worldloppet and four are associated. Bieg Piastów belongs to the first group meeting all requirements. We strived to this for many years.
Racers of Worldloppet can purchase passports and collect stamps in it confirming reaching the finish line. After completion of 10 different races, including at least one on a different continent, they are authorised to the Master Worldloppet title and commemorate medal and certificate.
Gold and Silver Master titles are available. The first title is awarded after completion of ten long races, and the second of short ones. One can have two passports and try to get two awards simultaneously.
Usefull links:
STRONA WORLDLOPPET
STATYSTYKA PASZPORTÓW
LISTA POLSKICH MASTERSÓW
Relations from Worldloppet races:
Adam Andrzej Fijałkowski w Worldloppet
Michoniowie byli pierwsi